BZK Antiseptic Towelettes, 100/Box, 4/Pack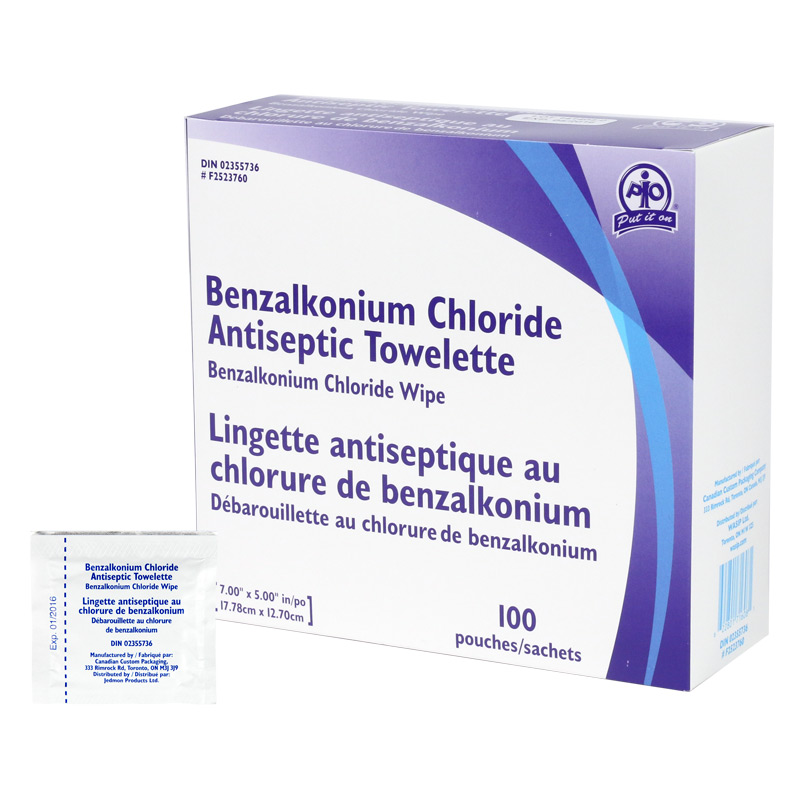 Province availability
Alberta,
British Columbia,
Manitoba,
New Brunswick,
Newfoundland and Labrador,
Northwest Territories,
Nova Scotia,
Nunavut,
Ontario,
Prince Edward Island,
Saskatchewan,
Yukon,
Quebec
Description
These individual wipes are saturated in a mild sting-free BZK (Benzalkonium Chloride) solution. They are ideal for cleansing minor wounds and skins and for use in first aid kits and rooms. They are packaged in a foil pouch.
Towelettes are saturated in a mild sting-free BZK (Benzalkonium Chloride) solution
Ideal for cleansing minor wounds
Aids in the prevention of skin infections
For use in first aid kits and rooms
Individually packaged in compact, single-use foil sachets
Contents
Weights and Measurements
Dimensions: 15.5 cm x 6 cm x 16.6 cm
Weight: 360 g
Manufacturer Produce ID Number
F2523760-4