Canada Labour Code First Aid Kit - Level A
Feature image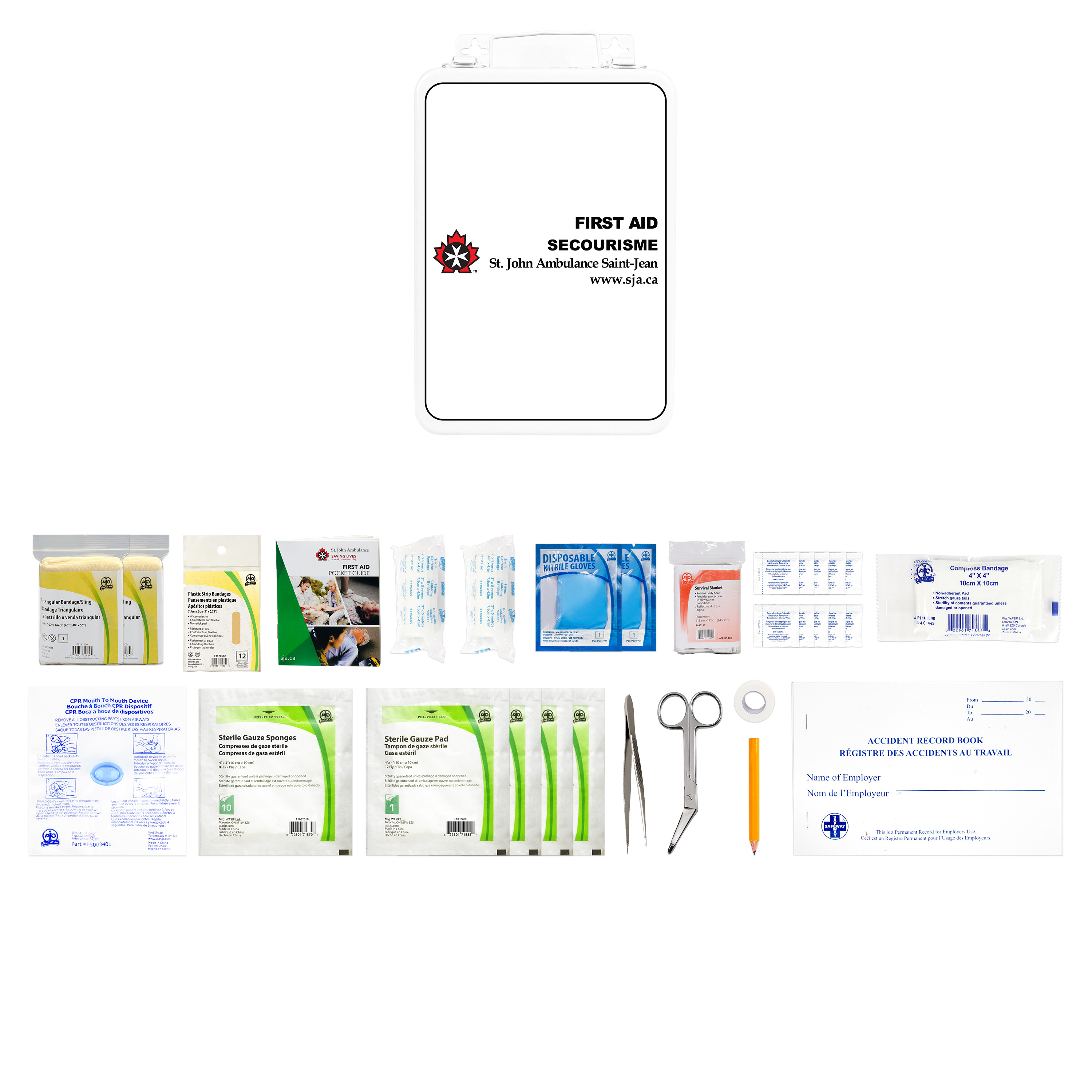 Province availability
Alberta,
British Columbia,
Manitoba,
New Brunswick,
Newfoundland and Labrador,
Northwest Territories,
Nova Scotia,
Nunavut,
Ontario,
Prince Edward Island,
Saskatchewan,
Yukon,
Quebec
Description
This kit provides you with all the necessary first aid supplies required to meet federal regulations standards.
The contents of each kit are based on the number of employees in the workplace and the type of workplace. This kit was designed for workplaces with 2-5 workers and complies with Canada Occupational Health & Safety Regulations. 
If you are employed by one of the following businesses and industries, you are more than likely working in a federally regulated sector:
 
Banks
Marine shipping, ferry and port services
Air transportation, including airports, aerodromes and airlines
Railway and road transportation that involves crossing provincial or international borders
Canals, pipelines, tunnels and bridges (crossing provincial borders)
Telephone, telegraph and cable systems
Radio and television broadcasting
Grain elevators, feed and seed mills
Uranium mining and processing
Businesses dealing with the protection of fisheries as a natural resource
Many First Nation activities
Most federal Crown corporations
Private businesses necessary to the operation of a federal act

If you do not work for one of the above, the employment standards that regulate your conditions of work are defined by your provincial or territorial ministry of labour.
Click here to review the most current regulations
Content List
2 Triangular Bandage,  Cotton, c/w Pins, 102 cm x 102 cm x 142 cm, 1/Bag
2 Conform Bandage, 7.5 cm x 4.5 m
1 Compress Bandage, 10 cm x 10 cm
1 0 Gauze Sponges, 8 Ply, 10 cm x 10 cm
4 Gauze Pads, 10 cm x 10 cm
2 Disposable Nitrile Gloves, Large, 1 Pair/Bag
1  Accident Record Book
1 Pencil
1 0 BZK Antiseptic Towelettes
1 Cloth Tape, 2.5 cm x 4.5 m
1 Survival Blanket, 213 cm x 132 cm
1 Straight Splinter Forceps, 9 cm
1 Bandage Scissors, 14 cm
12 Plastic Strip Bandage, 7.5 cm x 2 cm
1 CPR-Aid Rescuer Device, Single Use
1  St. John Ambulance Bilingual Pocket Guide
Weights and Measurements
Metal: Dimensions: 7 cm x 17 cm x 24 cm - Weight: 1.36 kg
Plastic: Dimensions: 8 cm x 25 cm x 18 cm - Weight: 450 g
Padded: Dimensions: 9 cm x 21 cm x 21 cm - Weight: 450 g
Refill: Dimensions: 8 cm x 8 cm x 1 cm - Weight: 450 g
Manufacturer Product ID Numbers
Metal: CLC-M-1
Plastic: CLC-P-1
Padded: CLC-PA-1
Refill: CLC-R-1