Explore how AEDs can make a life-saving difference.
Cardiac emergencies don't wait, and neither should you. Step up and empower your community or workplace with the life-saving power of Automated External Defibrillators (AEDs). By ensuring the safety and well-being of those around you, together, we can make a life-saving difference.
Here are some common questions:

Join us in fostering and empowering safer communities. Include an AED in your workplace and community today. 
Discover the Life-saving Advantages of Having an AED on Site
Equip Yourself, Protect Your Community:
Sudden Cardiac Arrest strikes unpredictably and claims up to 40,000 Canadian lives annually. With 80% occurring outside hospitals, the life-saving potential of an Automated External Defibrillator (AED) is clear. If utilized within the first minute of collapse, survival chances are near 90%. Yet, less than 12% of victims receive early AED assistance. With a user-friendly AED, you can change this statistic. No training is needed, and the device's life-saving potential is undeniable. The question isn't whether you need an AED in your community, but rather, can you afford not to have one? Learn how to use an AED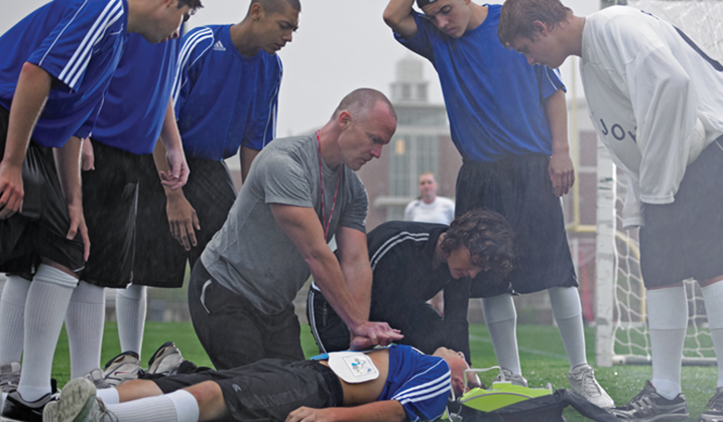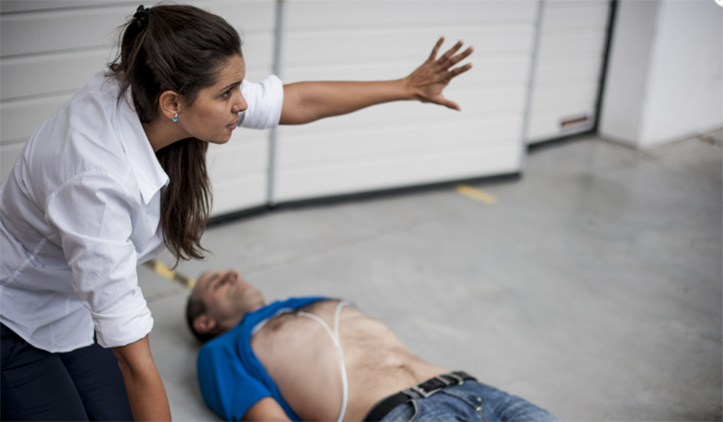 Find Confidence in Preparedness: 
A sudden cardiac arrest can strike at any moment, often leading to feelings of helplessness and fear. However, with an AED on hand, you're ready to intervene effectively. These user-friendly devices require no special training and have a built-in fail-safe: they only deliver a shock if needed. You're not just preparing for a possibility; you're ensuring readiness to step into a pivotal role when seconds count.
Guard the Hearts in Your Community:
Picture an AED readily available in your local school, office, or community center. Envision anyone—be it a grandparent at a community event, a colleague during a meeting, or a friend at the gym—facing a sudden cardiac arrest. In those critical moments, an AED becomes an accessible, user-friendly, and life-saving tool that requires no special training, and only delivers a shock when necessary.
Read More: How to choose the right AED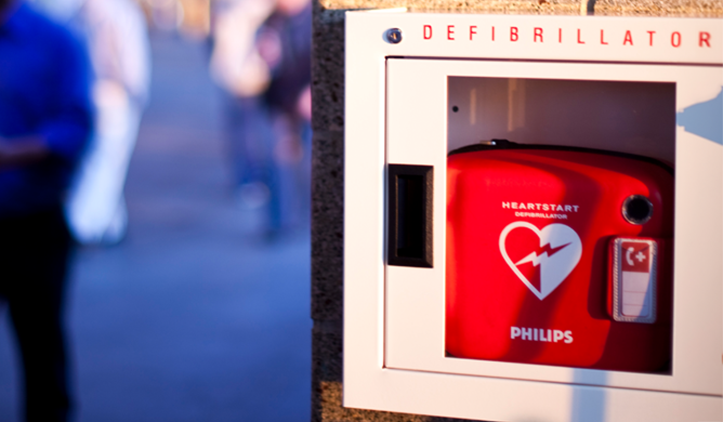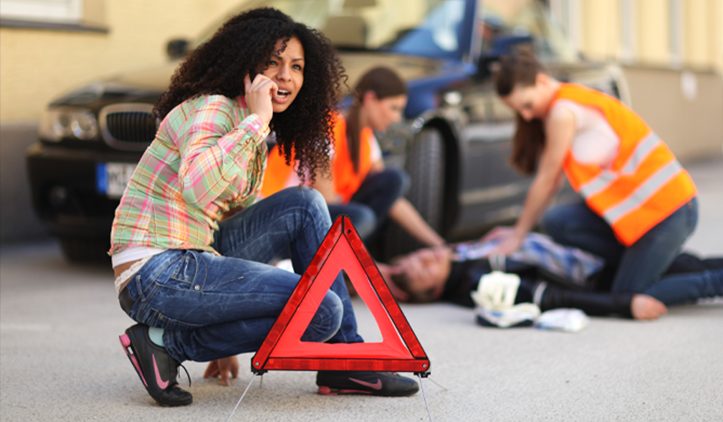 Join the Life-Saving Community:
At St. John Ambulance, we believe in the power of collective effort and shared responsibility. We invite you to be part of a larger community focused on workplace and community safety and emergency preparedness. By joining forces, we can spread awareness about CPR and AED usage, saving even more lives together. Let your actions speak volumes in the face of emergencies and join the life-saving community today.
Learn more: Talk to our experts
Safeguard Your Most Valuable Assets:
Each industry is unique, but all share a common asset - people. In any sector, whether it's construction, hospitality, or education, having on-site AEDs and CPR training is a crucial commitment to safeguarding your most important asset. It's not just about regulatory requirements or demonstrating due diligence; it's about protecting lives in the event of sudden cardiac arrest. With accessible, user-friendly AEDs and proper training, your workplace can prioritize people's safety, creating an environment of preparedness and care.
Choosing Smart: Your Guide to Selecting the Right AED
ZOLL AED 3
 
Step-by-step guidance
CPR Coaching
Voice instructions
On-screen instructions
Real-time CPR feedback
Child defibrillation
Unique Features
Real-time CPR feedback
Rapid-Shock Analysis feature delivers a shock as little as 5 seconds
Warranty
AED: 6 years (+2 years if you register your unit with Zoll after purchase)
Battery: 5 years
Pads: 5 years
$2,579.8
Philips
HeartStart FRx
Step-by-step guidance
CPR Coaching
Child defibrillation
Unique Features
Quick shock feature delivers a shock within 8 seconds
 
Warranty
AED: 8 years
Battery: 4 years
Pads: 2 years
 
$2,561.00
Stryker
LIFEPAK CR2
Step-by-step guidance
CPR Coaching
Child defibrillation
Unique Features
ClearVoice technology adjusts volume based on background noise
 
WARRANTY
$2,514.00
Shop Now
See the step-by-step demos that show how simple it is to use an AED.
Content
The ZOLL AED 3 (automated external defibrillator) for use in case of Sudden Cardiac Arrest emergencies. Real CPR Help® guides rescuers in delivering high-quality CPR consistent with current guidelines...
Heading
How to use a Philips HeartStart FRx AED
Content
The Philips HeartStart FRx defibrillator features intuitive, step-by-step voice instructions, including CPR guidance, and an audible metronome to help guide basic life support (BLS) responders while...
Can I hurt someone with an AED?
Top 10 Things You Must Know About AEDs and CPR
1. Knowing about AEDs saves lives:
An Automated External Defibrillator (AED machine) can significantly increase the chances of survival when someone suffers a cardiac arrest. Remember, for every minute that passes without defibrillation, a person's chance of survival decreases by about 10%.
2. Early AED USE is key:
Defibrillation within the first few minutes of collapse can produce survival rates as high as 75%. This is why it's crucial to have an AED readily available in public and work spaces.
3. AEDs are user-friendly and safe:
Modern AEDs guide the user through the process with clear, step-by-step instructions and diagrams. They are designed to be used by anyone, regardless of training level. An AED will analyze the victim's heart rhythm and will only advise you to deliver a shock if it's needed. You cannot accidentally shock someone using an AED.
4. CPR and AEDs are life-saving tools when used together:
Cardiopulmonary Resuscitation (CPR) and AEDs go hand in hand. CPR keeps oxygen-rich blood flowing to the brain and other vital organs until an AED can be used. When performed immediately and correctly, CPR can double or triple a cardiac arrest victim's chance of survival. It keeps blood flowing until an AED is used or professional help arrives.
5. Get certified in CPR & AED:
A CPR & AED certification course provides hands-on experience and guidance from experienced instructors. It's an invaluable resource to ensure you're equipped with the knowledge and skills to perform CPR effectively and confidently. See our first aid training courses
6. Remember the Chain of Survival:
The chain of survival includes: early recognition and call for emergency assistance, early CPR, early defibrillation, and post-resuscitation care. Each link in the chain is crucial for survival. Remember, while AEDs are a life-saving tool, they are not a replacement for emergency medical services. Always call 911 in the event of a suspected cardiac arrest.
7. Regular AED maintenance is critical:
AEDs are typically very reliable, but like any electronic device, they need regular maintenance. Ensure the battery and pads are not expired, and that the device is in working order.
8. Consider maintenance costs when purchasing an AED:
AED cost should include considerations for maintenance, replacement parts like batteries and pads, and potential training for staff. AEDs are an investment in safety, and you can buy AED in Canada from trusted suppliers.
9. Training benefits everyone:
While anyone can technically use an AED, training boosts confidence and efficiency in an emergency. Consider inviting friends, family, and coworkers to join you in enrolling in an accredited first aid, CPR, and AED training course. Knowledge shared is a potential life saved!
10. Every workplace needs an AED:
In Canada, it's recommended that every workplace have an AED. The more readily available an AED is, the better the chances of survival.
Take action now, and be a part of the life-saving difference in your community.
Our Customer Care team is ready to help you make the right AED choice.
Contact us for expert advice: 1-866-321-2651